PES 2021 HOS Gameplay is the debut gameplay version of facemaker Hosamalfars. With new experiences and upgrades, v5 of gameplay is truly worth experiencing. Let's go!
Read more:
>> World cup 2022 pack for PES 2021 – All in one
>> Mod pre-match menu PES 2021 – Menu and stadium background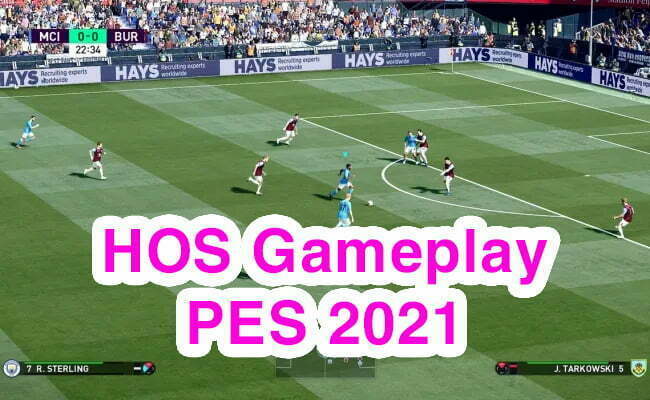 1. Features of PES 2021 HOS Gameplay v5
– Realistic header and air batteles
– Dribbling system : effective, responsive & enjoyable skill moves
– Add L2 manual shield.
– Shooting system : improved normal shoot, R2  shoot (controlled shoot) and loop shoot
– Improve control of the ball
– More humanized Goalkeeper
– Improve foul system and contact system.
– Increase power of PEN kicks to be able to hit the ball before GK can punch it
– Improve passing
– Faster animations and decrease reactions
– Improve stamina system : gegenpressing will take all your stamina so enable it some time during the game or you will pay the price
– Improve tackling and sliding
– Improve double R1 dash (burst speed) to be more effective…
– Improve cursor system – more responsive
– And much more …
2. Download PES 2021 HOS gameplay v5
Modsfire  
Sharemods  
Onedrive  
3. Tutorial install PES 2021 HOS gameplay v5
Step 1: Download and unzip
Step 2:
Copy  "PES2023 HOS gameplay" folder to "livecpk" folder
Add the following command to sider.ini:
cpk.root = ".\livecpk\PES2023 HOS gameplay"
If you do not have sider installed, you can refer to the sider guide for PES 2021
Step3: Enjoy!
Hopefully with this version of PES 2021 HOS Gameplay, you will have more interesting experiences!
Read more:
>> Follow Cao Cacao fanpage to update more news!
>> Smokepatch Inferno v3.0 lastest update – Exciting upgrade for PES 2021
>> PES 2021 Ball pack v31 with 762 balls